About Us
LEXEKON's Arc Suppressed Ballasts, are just one of the many ways that we at LEXEKON strive to be your total electronic solution provider for the transit industry.  With our in-stock inventory of Rapid Start, Instant Start T12, T8 and Compact Fluorescent Ballasts, as well as an unparalleled product offering in every voltage range, LEXEKON offers a drop-in replacement for virtually any ballast used in your fleet of existing buses.
LEXEKON's engineering team have designed these ballasts with the transit industry in mind incorporating features such as independent life, current overload protection, -40oF (-40oC) to +158 oF (+70 oC) start range and cold socket protection.  LEXEKON offers the most robust and well designed ballasts in the industry.  Other options available are Ballast Status Light as well as Independent Lamp Status Indicators.
LEXEKON's fluorescent ballasts are currently installed in the transit industry throughout North America and have established a reputation for durability, versatility and confidence backed by an industry leading three year warranty.
LEXEKON's team of engineers also offer the end customer a total design solution.  With on-site manufacturing, we can customize ballasts to incorporate a large number of features ranging from dimming to dual AC/DC voltage.
Capacitive Storage Unit
for Emergency Lighting Systems
Check out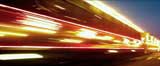 LED Driver Systems
Check out